Saluki Al Naqawa
Smooth and Feathered - for Beauty and Performance
Saluki CH. Al Khabara Damitha (Dusya)
* 23.10.2004
Breeder: Monica and Alex Kullarand, Estonia
Height: 69 cm
Colour: black grizzle
Coat: feathered

Accomplishments:
6 x CACIB, 3 x RCACIB, 11 x CAC, 2 x KChK, 6 x CACJun
1 x BOB Puppy, 6 x BOB Junior, over 10 x BOB, 2 x SBIS
1 x BIG-1, 3 x BIG-2, 3 x BIG-3, 1 x BIG-4; BIG Junior "Eurasia-06"
International Champion, Russian Champion, Russian Grand-Champion, Ukrainian Champion, Belorussian Champion,
Russian Junior Champion, Saluki Club Winner, Saluki Club Champion, Champion of RKF
2 x Eurasia Junior Winner-06, Eurasia Winner-06, Rossia Winner-07
2 x RCACL (lure-coursing), 1 x RCACL (track-racing)
Free from heart diseases (Doppler ultrasound test - April 2011)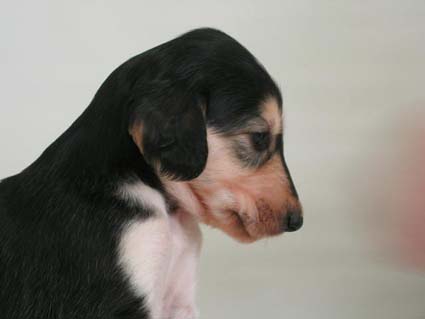 Our new Saluki - Damitha (Arabic: "soft, gentle") aka Dusya (Russian: "nice, sweet person") - doesn't come from the Negev desert but from a much colder country - from the Estonian kennel "Al Khabara". On Monica's homepage I saw that they had a beautiful litter of 10, and luckily one girl was still available - we all fell in love with this black beauty with such irresistible face.

Thank you, Monica and Alex, for this wonderful girl!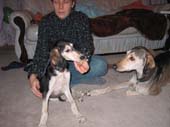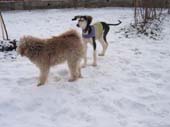 Dusya came to Moscow by train accompanied by a friend. She was very brave and behaved beautifully both in the train and during 1,5 hours drive to our house. When the "big ones" first met her they were quite wary but that didn't last long. Dusya however liked them all from the very beginning (especially Toffee and her fluffy tail taking it for something to chase)! With everyone she meets she is very outgoing and not at all shy.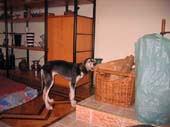 Lisa was also very glad to get a new little friend. The whole family finds her absolutely adorable and don't mind her little pranks like popping Lisa's balloons, chewing on firewood and stealing our slippers. It's like having a little whirlwind around the house when she is awake. Nassim seems to have turned into a puppy again. He plays and roughhouses with Dusya and is much more lively ever since she arrived.
| | | |
| --- | --- | --- |
| | Our Dusya is grown up now and is quite a lady. She behaves like a princess - she seems to know how beautiful she is ;-)) Dusya was shown only a few times but easily finished her Russian, Belorussian and Ukrainian Champion titles and was BOB at the 2 biggest Russian CACIB shows "Eurasia-2006" and "Rossia-2006". Dusya obtained both racing and lure coursing licences and is a very enthusiastic and reliable runner. Dusya was BOB at 2 last Saluki Club Shows and is now Club Champion and Russian Grand-Champion as well. Dusya finished her Int. CH title with 2,5 years. | |
Dusya's Pedigree
Sire: Aziz Sharik
Aziz Nazar
Int.Ch. Dahab-al-Dakar
Int.Ch. Aziz Fazilat
Int.Ch. Aziz Jalil
Fin.Ch. Kirman Cashmar
Fin.Ch. Sahrai Qathita
Dam: Multi Ch. Aziz Mahtab
Multi Ch. Aziz Jadugar
Fin.Ch. Kirman Cashmar
Fin.Ch. Sahrai Qathita
Multi Ch. Aziz Hadaya
Int.Ch. Wallaby's Karram Kiyar
Int.Ch. Aziz Cashmandaz