Saluki Al Naqawa
Smooth and Feathered - for Beauty and Performance
Saluki CH. Idan Atiq Nassim
26.08.2002 - 14.03.2014
Breeder: Tzviah Idan & Kuti Aharon, Israel
Height: 67 cm
Colour: grizzle
Coat: smooth

Accomplishments:
11 x CAC, 5 x CACIB, 3 x RCACIB, 2 x BIG-1, 2 x BIG-2, 1 x BIG-3, 1 x BIS-5, 2 x BOS, 6 x BOB
Veteran BIS-1, Vet BIS-2, Vet BIS-3
Russian Champion, Ukrainian Grand Champion, Champion of RKF (Russian Kennel Club),
Russian Racing Champion, Russian Lure-Coursing Champion, Finnish LC Champion
BIS Smooth Saluki at the Finnish Specialty 2005, BOS Smooth Saluki at the Finnish Sighthoundshow 2007
Racing and Coursing Licence, Coursing Champion of RIOPOiKS, Russian Racing Champion 2006, Russian Lure-Coursing Champion 2007, Champion of RKF and RALBB 2007 in track-racing
5th place in the European Coursing Championship 2006 in Mustiala/Finland
1 x CACIL, 1 x Fin LC SERT
Free from heart diseases (Doppler ultrasound test - April 2011)
Photo: Al Nafiseh
Photo: Al Nafiseh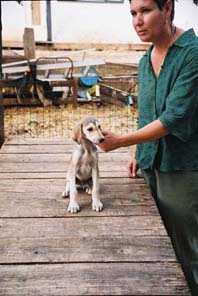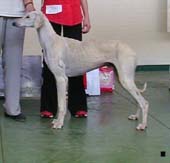 Ever since I saw a Saluki I was fascinated by their elegance and dignity. I always wanted to get a desert bred dog from original Bedouin stock. However finding an Arabian breeder via the Internet proved very hard and I began to lose hope. But then I found the web site of the Israeli Sighthound Club. And thanks to the help of its president, Dr. Zafra Sirik, I found out that Tzviah Idan who also breeds Arab horses and her partner, Kuti Aharon, had a litter of pups available. The pups were raised on the farm, with horses, sheep, cows and other Salukis as well.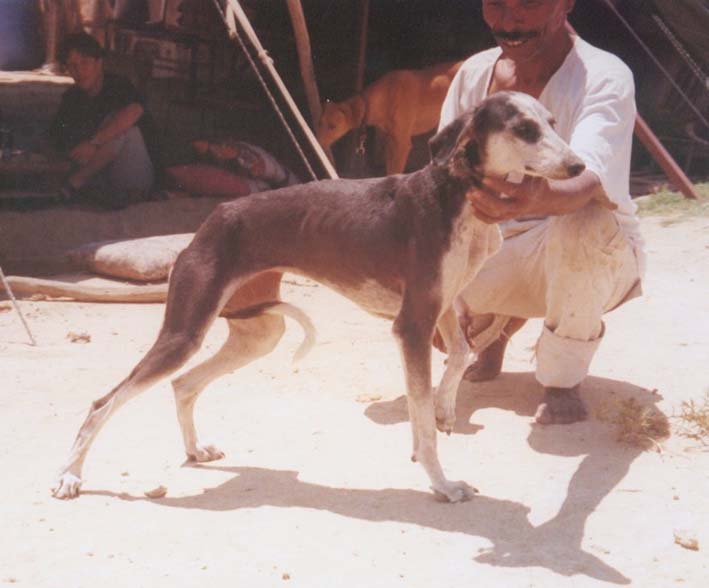 Tzviah's and Kuti's Salukis were given to them by the Bedouins (especially the well known Saluki breeder, Jumaa of Rahat, who still lives in a tent in the middle of Negev desert) in return for their help - Dr. Sirik, Kuti and Tzviah help them vaccinate their dogs and bring them food and medicines. This particular litter had been sired by Rasas of Rahat, a remarkable dog and excellent hunter who had won Best in Show at his very first dog show. One of Nassim's brothers, Rafiq, has been exported to Finnland, by Micaela Lehtonen (Qashani kennel) who helped me to choose Nassim and fell in love with this litter.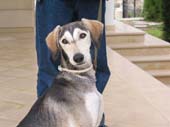 I chose Nassim not only because of his correct conformation and beautiful colour but also due to his lovely nature and irresistible face. When he and Shalaf arrived in Cyprus, Nassim was quicker at recovering from the flight and getting used to his new surroundings. From the very beginning he was curious and interested in everything going on around him. Nassim also has the stronger hunting instinct of the two. He enjoys lure coursing and chasing Toffee around our garden. He will also chase crows and seagulls when we go to the beach. Nassim used to hate water. It was impossible to get him near it. But recently we went to the beach with lots of shallow and still rock pools. Following the other dogs he went in and bit by bit gained more and more confidence.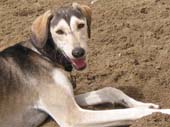 Nassim is more of a pack follower. He lets Shalaf and Toffee be the leaders and make most decisions. He can be rather protective of us though. If any strange dog gets to close to us Nassim will growl at him jealously. Nassim is somewhat easier to train than Shalaf as he is more food orientated. He is also very clever - whenever it is hot he will always find the coolest place to lie. He also likes picking up sticks and stones and carrying them around.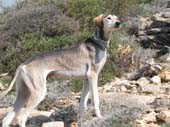 Nassim loves to explore places even those which seem inaccessible and is an excellent climber. In spring during the sparrows breeding season he used to "hunt" sparrow chicks which had dropped from their nests. He would play with them and bring them to his bedding without harming them in any way. His soft character matches his face expression which everyone who meets him finds ever so touching. I think his name (which means "light wind" in Arabic) suites him really well as he is as fast and gentle as the softest summer breeze.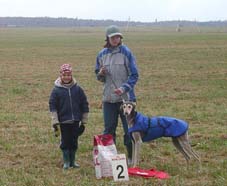 Nassim likes both - racing and lure-coursing. He only needs some more training with the start box. He participated in the Russian Racing Championship held on 2nd May 2005, had the best time in the first run but came second in the finales (he was the last to leave the start box and was attacked by another dog - it's all cost him the precious time). Now we are working to improve his starting pattern and go to training races every weekend.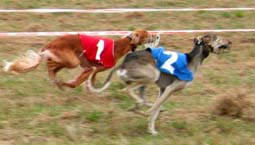 Nassim was very succesful both in lure-coursing and track racing. He had won several competitons and has many titles - in Russia and other countries as well. In 2006 he was placed 5th at the European LC Championship in Mustiala (Finland). In 2007 and 2008 he was running for Russian team at the LC Championships in Switzerland and Sweden. He didn't make onto the podium but did well considering the huge competition in Salukis (he was 13th and 22nd). Even after his retirement he participates in inofficial competitions very enthusiatically and with good results.
Nassim is the sire of our B-litter and many of his children started their career in lure-coursing very successfully: Baqqam with 2,5 years is already Russian and Finnish LC CH and has 2 CACIL, Balasaan won Russian LC Championship 2 times in a row and was 3rd at the European LC Championship 2011 in Netherlands, Bidhaara who lives in Finland has 2 LC certificates and 1 CACIL and is also Nordic Winner-2011.
Nassim's Pedigree