Saluki Al Naqawa
Smooth and Feathered - for Beauty and Performance
Saluki CH. Idan Atiq Shalaf
* 04.08.2002
Breeder: Tzviah Idan and Kuti Aharon, Israel
Height: 70 cm
Colour: white with red markings
Coat: feathered

Accomplishments:
9 x CAC, 4 x CACIB, 3 x res-CAC, 3 x res-CACIB, 3 x BOB, 2 x BIG-2
Russian and Belorussian Champion, Champion of RKF
Racing and Coursing Licence, Russian Working Champion
Laflaf - almost 10 years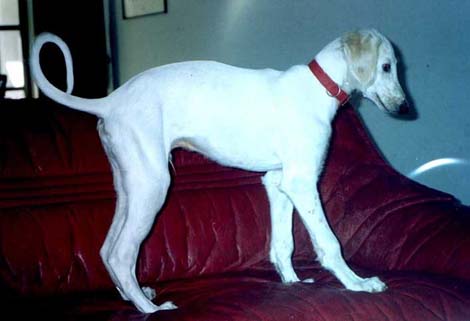 When I was in Israel, choosing a puppy, apart from Nassim's litter there was also a Saluki pup three weeks older than the rest. It was impossible for me not to notice this freckly, cream coloured feathered pup (the only feathered Saluki of Tzviah's kennel) with his friendly outgoing nature. Unfortunately Tzviah didn't want to sell him as that was the last litter her favourite Saluki bitch, Schuha bat Sinai, would have. I was disapointed and tried to not give him to much attention. After a while however I was able to talk her into selling me Shalaf, or Laflaf, as we fondly call him.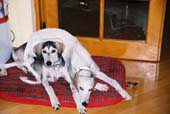 When Laflaf arrived in Cyprus he was a bit confused and bewildered, which is not surprising considering he had lived on a farm. But he adjusted fairly quickly and soon stopped feeling homesick. Now he knows and loves all members of the family and our close friends and will come to you asking to be stroked.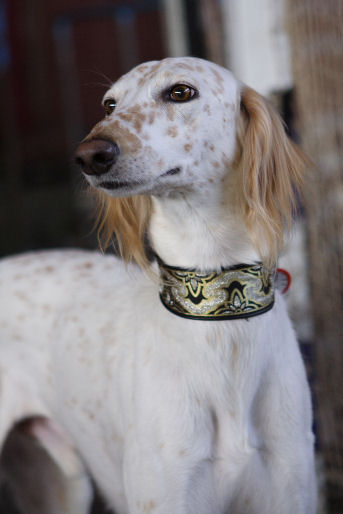 Unlike Nassim who retained his puppy-like antics Laflaf is always elegant and acts in a dignified way. He wouldn't dream of chasing his tail or collapsing onto his bedding the way Nassim does. His airs and graces have earned him his nickname "Monsieur Laflaf". Shalaf is also very friendly with people, even complete strangers. He lets groups of noisy children fuss over him when I picked my daughters up from school. He never used to playbite though he can get rather rough when playing with Nassim or his friend Tao, the ridgeback.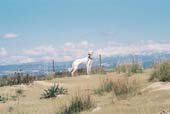 Laflaf simply thrives on human company. He misses me awfully if I take Nassim for a walk and leave him behind. Whereas Nassim is rather independant Laflaf is more cuddly and attention seeking. He just loves to show off and present himself making everybody admire him. Although Nassim looks more attractive on photos in real life it is Laflaf who gets the most attention as the way he moves is extremely graceful and he has a very noble face expression. All of this he most probably inherited from his mother, Schuha bat Sinai, Tzviah's first Saluki, which was brought from the Sinai peninsula by the Bedouins. Even at her now advanced age she continues to win not only prizes at dog shows but also plenty of hearts.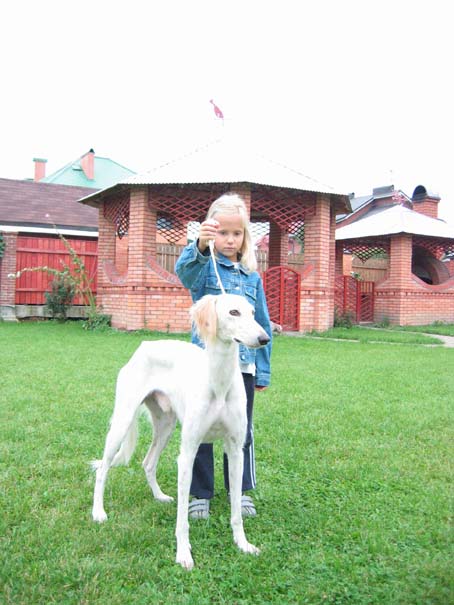 At first training Laflaf was challenging as he is very fussy about food and always has a mind of his own. Now we do clicker training with very tasty treats, like tiny pieces of boiled meat, with visible progress. Although he obeys and respects us, humans, among dogs he is the indisputable pack leader and makes sure that his word is the law. But we know that despite his stubborness and tendency to play the boss, at heart Shalaf is just a big softie!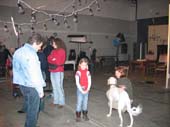 Recently Laflaf got the chance to participate in the shooting of a real movie at the Russia's biggest studio "Mosfilm". He charmed the crew with his good manners and proud bearing. He was not at all scared or nervous about this most peculiar environment - he thought of it all as a big adventure. He made new friends and I think he made a good impression of himself and the breed Saluki.
Shalaf's Pedigree
Sire: Riach 2 of Rahat
Desert Descent
Desert Descent
Desert Descent
Desert Descent
Desert Descent
Desert Descent
Dam: Schuha bat Sinai
(imp. Sinai)
Desert Descent
Desert Descent
Desert Descent
Desert Descent
Desert Descent
Desert Descent